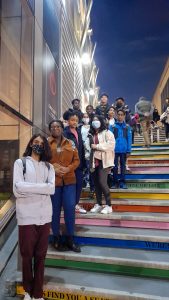 On Wednesday 23 March fourteen students attended the Royal Philharmonic Orchestra performance of Britten's The Young Person's Guide to the Orchestra, Shostakovich's Cello Concerto No.1 and Walton's Symphony No.1 conducted by  Vasily Petrenko at the Southbank Centre Royal Festival Hall.
Before attending the performance we walked past many talented street performers from bands to solo saxophists. We were also able to see the sights of the London Eye lit up with Big Ben in the distance.
The students were blown away by the power of the orchestra and the energy and excitement of  Britten's The Young Person's Guide to the Orchestra as the motifs bounced from one section to the other, flipped between dynamic changes and moments of still to bursts of sound. Najiha commented that she felt she was in a dream during the calm and tranquil moments in the Shostakovich Cello Concerto No.1. As I looked at our students they were just glued to the sound, with dropped jaws and eyes wide open! We had to hold back their applause during the movements of  Walton Symphony No.1 – every movement was just applause worthy.
As we walked over the bridge, on the way home, I could hear the students commenting that they would like to come back to see the sights and although it was 10.05pm and they were so tired, they really enjoyed the performance.
We look forward to hearing more beautiful works in the future.