Students are proud to represent the school and each other, playing a major part in developing and shaping our school. The representatives of our active student council are directly involved in the planning and implementation of school improvements and meet regularly to discuss key issues and priorities.
Members of the school councils have a responsibility to put forward the views of their tutor and year groups. Rather than just presenting their own opinions, students are encouraged to develop as effective leaders and ensure the voice of all students is represented. The Council members also ensure that feedback from the meeting is passed back to their year and tutor groups.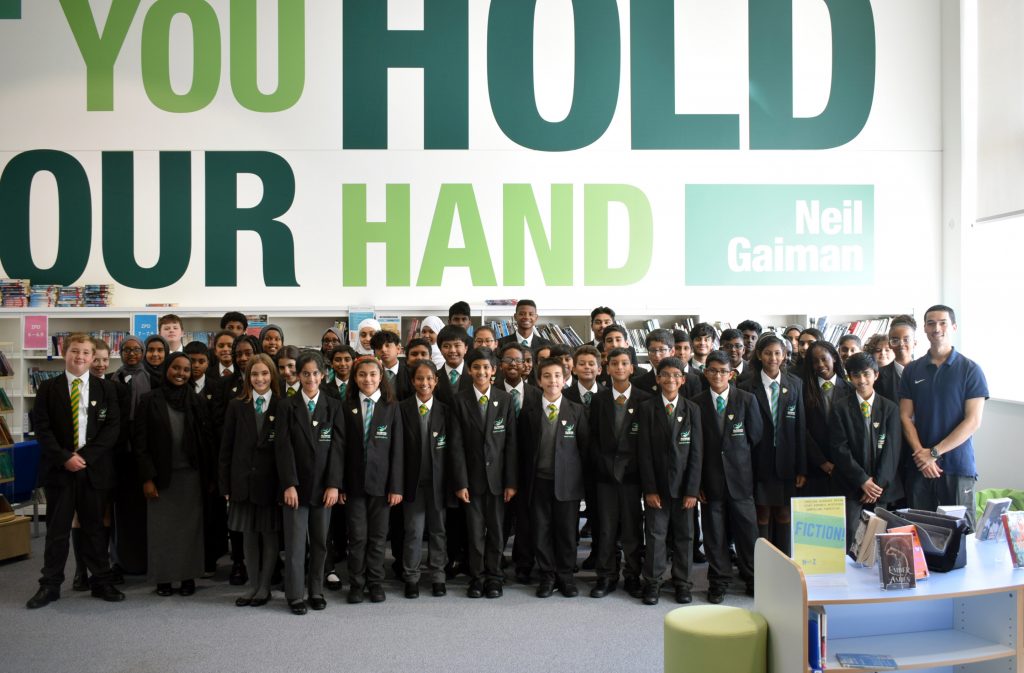 A successful form representative is…
Someone elected by their form
Listens to everyone
Attends all Student Voice meetings
Communicates back to their form group
---
 A successful year representative has…
Been nominated by the students
Attendance over 95%
More achievement points than behaviour points
The ability to speak to a wide audience
Less than 30 behaviour points
Positive reference from PM
Reviewed by Student Voice Lead, Deputy Head Teacher and PM's
Our student leadership structure:
---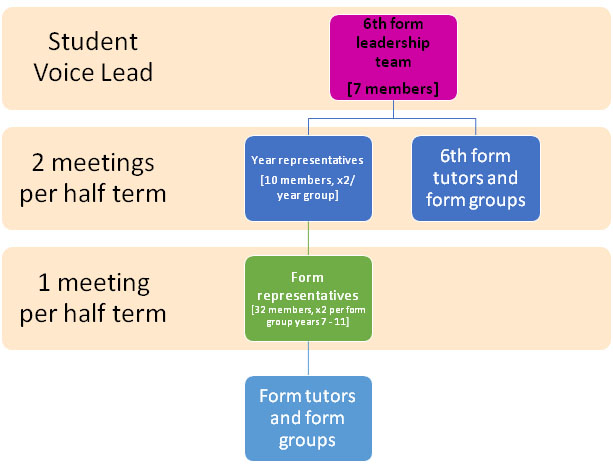 ---
To ensure that students have a voice, members of the student council will be:
---
Ready: punctual, smart and organised.
Respectful: maintaining the highest possible standards for themselves which will include following the Alperton Quality Standards and acting as role models for other students in the school.
Responsible: committed to attending all student council meetings as scheduled. Actively engaged in positive discussions in and around the school to further the student voice council in their objectives.
Resilient: by the way they work with all of the staff and student community.
Form
Form Rep (M)
Form Rep (F)
Eco Leader
Prefect 1
Prefect 2
Year 7
K
Abeer /Ahmed
Shaheem /Layla
Khusi Samjk
L
Dennis Holness/ Mohammed
Lorine Otoo/Jeeya Solanki
Darren Kakarash
N
Dhrumi/Lajos
Alisha/Jasmine
P
Sanjith/Tamaine
Kyshani/Palak
Palak Hitesh
Dhruvi Maisuriya/Jamie Patel
Q
Kavish/ Gorwish
Anna-Maria/Tisha
Gorwish
Prianka
Riddhi
R
Yahya/Jibreal
Kinza/Maha/Aisha
Thirushan Naveendran
Maha Asif
S
Zaid
Melody/Aliza
T
Maria
V
Yusef/Mohammed
Purva/Chandal
Pinkal Meghji
Chanchal Sanjay/Atika Abdinasir
W
Milo/Abdullah
Fatima/Diya
X
Zakariya/Billal
Umaiza/Mya
Vedika Balvant
Umaiza Khan/Samar Ahmed
Y
Orkido/Joshua
Sarani/Zainab
Anton Biuwovwi
Year 8
K
Namal
Iqra
Isobella
Ashvathan
Vinisha/Jainil
L
Dylan Moti
Vritee Jiten
Janan Sabir
Boglarka Fagyas
Soroush Omed
N
Mohamed Abdulkadir Ali
Iris Golding
Hanan Saeed
Abdullah
Purvisha Ratilal
P
Ahmed Ali
Marisha Casy
Emmanuel Malu
Parv Patel/Harsh Pranlal
Siya Pradipkumar
Q
Moumen
Orgesa
Shreeya
Minali Mohanlal
R
Amhad
Tiana
Raya
Raya
Musab
S
Daniel D'Souza
Khadija Hasani
Ibrahim Iman
Razan Omer/Shreya Bareya
Hassan Bawab
T
Ilham Afaqir
Aswin Sivakumar
Varni Hirani
Naman Patel
Ilham Afaqir
V
Muhamed Abkay
Krupanshi Vishalkumar
Fernanda -Beatriz Bud
Dhayani Dilip
W
Abubakar Ali
Diana Al-Anizi
Shukraan Jan & Dhruva Parikh
Jeremy Gurjar
X
Patryk Terilowski
Satchel Anna Fernandes
Diya Patel
Dinusha Venestan
Shrey Chetan/Patryk Terpilowski
Y
Munasar Hassan
Selina Devji
Anvesh Dipak
Jack Jeffrey Smart
Year 9
K
L
Maria Julia Barbosa Lemes
Kinjal
N
Rushit
Seham
Prasna Shamji
P
Resikan
Sanika
Prince
Harun
Taylor
Q
Preet Khamar
Isabel Nicholls
Dhuvesh Subhashcumar
Parthvi Patel/Kirtan Parmar
Sadhana Suresh
R
Yug Ramji
Cassie Issacs
Durgesh Valji/Vaidik Pravinkur
Jay Prajapti/Natasha Lalitkumar
S
Isaiah
Nikki
Taqua
Jeet
T
Jamil
Roshini
Asmitha
V
Hamza/Osman
Chantall
Juhil
Zion/Smit Hitesh
Sudan
W
Jay
Krisha
Shayan
Thayaana/Prachi
Raheema
X
Yash Dineshkimar
Diana Younes
Shay Hirani
Khishal Hira
Y
Pinak
Pakriti
Tarun/Ahmed
Sonia
Bhumi
Year 10
K
Mariam
Neo
Nora
Mohamed
Oghenekevi
L
Zahir
Olivia
Astha
Hamza
Astha
N
Tomasz A Abyaan
Hinali/samira
Dilon
Sheylon
Asia
P
Zeena/ Hana
David/Sulieman
Kusai
Q
Muhammed K
Hanan
Leo
R
Tamilola Ajayi
Abdirahman Ahmad
S
Umar
Batoul
T
Tayler
Iqra
V
Raihan
Aniksha
Maher
Iqra
Maryam
W
Rexsan
Maria
Rudra Minita
Safaa
Raj
X
Shuaib
Nishi
Tasia
Harshil
Bhavyesh
Y
Neev Patel
Ashwariya Ghaghada
Umaima Ilyas
Russell Aluthge
Neev Patel
Year 11
K
Devanshi Jani
Ruschita Genesh/Rahma Abdullahi
Sarah Al-Anizi
Jainisha Premji
L
Eriant Bounto
Prachi
N
Yash
Mia Hinzey
P
Thomasz
Pranchi Vishvesh
Mimasa
Q
Csaba Gyuricza
Hafsa Godal
R
Ahlaam Afrah
S
Himesh Suresh
Faosiya Belko
Aryan Cotecha
T
Suzal Nalin
Methmini Warusha
Bhavya Banushali
V
Adam
Rima Bhandari
W
Jay
Prisha
Mustafa
Fahima
Mohamed
X
Tirell
Diya
Hareesuthan
Abbas/Kreena
Kripali
Y
Krish
Ruweyda
IUtsav
Junayd
Richelle
Sixth Form
LS1
Ali
Ghait Abbas
Itisha Dilipkumar
Andrei Nica
Darsh Mehta
LS2
Siya Majithia
Amaal Mohamed
Rahman Torgul
Yahya Mohamed
Priyanka Samji
LS3
Pavan Preet
Khalid Elmi
Harsh Mohanlal
Adeela Aamir
Nital Lalji
LS4
Pranay Mistry
Dhruvisha Dhruv
Danyl Hyder
Joy Wang
Zakariya Mohamed/Alexie Obianyor
LS5
Sami Bradai
Krishna Nair
Yahya
Mohammad Metibb
LS6
Hanan Ismail
Zainab Hassan
Khadijo Hussein
Khadija Hassan
Tasnim Jama
LS7
Divya Patel
Viren Chunilal
LS8
Jainisha Dharmendra
Kamron Blake-Fournillier
Abishayaan Balakumar
LS9
LS10
US1
Nala Moncrieffe
Faisal Ali
Ilayda Toyam
Idman Abdi Ali
Devang Madani
US2
Parita Deuchande
Zeeshan Choudry
Deepti Pindolia
Zakaria Moalin
Hetvi Parekh
US3
Hind Adam
Alan Kader
Esha Shantilal
Priya Amarchande
Dia Kukran
US4
Krisha Ramniclal
Ramen Hassani
Harch Velji
Laila Younis
Krish Ravindrakumar
US5
Miski Haji
Chirag Suberi
Ishaant
Shweta
Nach
US6