Click on the image below to explore our Learn Live School Careers Page, a free information hub that connects employers and students.
---
The page includes A-Z national employer videos, which will give students an insight into the company and sector. Students are able to utilise the video groups by accessing them via the FREE School Careers Page. We are working with local employers to make the videos relatable to the students and showcasing the multitude of opportunities  available to them locally.
---
---
Please click on the following link to download our
CEIAG Policy
.
---
Head of Careers - Mr A. Rayleigh
---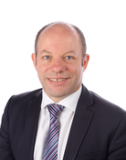 This is my 8th Year teaching maths at Alperton Community School and I am currently the Head of Careers. I feel very passionate about careers and truly believe that every young person should have the most effective career guidance to meet their individual requirements.
In my opinion, the ultimate goal for every student is to contribute positively to society as well as maximising their potential, having made the correct decision in terms of their next destination. I see my role as facilitating that goal and I am looking forward to working with you in helping to provide you with a wealth of knowledge, using my own experience, to enable you to achieve your future goals when you leave the school.
'I know that successful students become successful adults'
---
Careers Guidance Advisor (Prospects) – Ms R Ali
---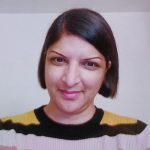 For the last 15 years, I have worked as a Careers Guidance Advisor to Young People in secondary school, college and local community settings within the London Boroughs of Hillingdon, Brent and Ealing. My approach is to empower individuals so that they are in a position to take ownership and responsibility for their own short and long-term career planning, development and management. We are all living in an increasingly transient and post-pandemic world, therefore up to date, relevant, realistic and effective careers information, advice and guidance has never been more important to help Young People navigate their way through their different options. I network with other Careers Guidance Professionals from around the UK and ensure that my own staff training and continuing professional development is up to date. I believe that all young people have the right to reach their full potential and the contribution that I can make towards their life chances and goals is always a pleasure, honour and a privilege.
Contact: Rouna.Ali@prospects.co.uk
Unifrog is a complete destinations platform for students and teachers. It transforms the way young people search for and compare opportunities that are available to them and how schools can track and encourage them.
---
The platform brings into one place every university course, apprenticeship and college course in the UK.
Other opportunities such as School Leaver Programmes, MOOCs and undergraduate courses abroad.
---
Benefits for students include:
---
Research over 1500 careers – key skills, linked subjects and apprenticeships.

Discover subjects to study at university and expert tips on how to make successful applications.

Tips on PSHEE and wellbeing support.

Information about all apprenticeships, universities, colleges and sixth forms are all kept in one place.

Build a portfolio of activities, competencies and achievements (eg. Volunteering).

Support in writing high-quality CVs and Personal Statements.
---
Benefits for staff:
---
100s of downloadable resources to use in lessons, tutor times and ELD/drop down days.

Track all career activities and break this data down by pupil characteristics. Eg. How many of 11S are yet to have a 1:1 careers adviser meeting this year?

Filter student activity and leave feedback on their profiles. Eg. I teach Business and have an accountant contact offering to give a talk to 30 students.

Streamline the UCAS application process ie who has and hasn't done their personal statement.

Write subject references for and view the courses that students are applying to.
Please click here to see a list with useful websites to help you choose your career.
---
---
For more options and career information, please check the
How2Become
website.
| | |
| --- | --- |
| Parent Adviser | Advice for parents about the career options for their children. Focuses on post 18 options e.g. Higher Education, alternatives to University, Gap Year, Finance, etc.  |
| Parental Guidance | Parental Guidance is brought to you by the Careers Writers Association who write articles, books and web-based materials for all age groups, particularly young people.  |
| Career Alchemy | Provides an easy-to-read overview of all the essential facts on finding jobs and apprenticeships or choosing further and higher education courses. |
| Youth Employment UK | Parental Guidance |
| UCAS Parents Guide | Parents Guide to Higher Education (UCAS):  |
| All About Apprenticeships | Parents Guide to Apprenticeships |
| Parents & Careers Ebook(.pdf) | Helping your child begin their career journey |
Would you like to work with your local community school? If so, below are just some of the motivations for your business to engage with our school:
Develop young people's futures:
generic work skills, attitudes and behaviours
specific skills such as STEM
broaden career horizons
Improve workforce diversity and social mobility:
increase diversity within specific sectors or occupations
improve educational and employment prospects for disadvantaged pupils
build a network through which to identify and recruit your future talent
Support employee development and engagement:
personal and professional development
increase employee engagement by giving back to the community
Embed corporate social responsibility priorities:
contribute to communities
create sustainable business
embed employer brand and company reputation
---
If you would like to contribute to our Careers, Education, Information, Advice and guidance programme, please read
this document.
For more information please contact Mr Rayleigh, Head of Careers at Alperton Community School.
School number: 020 8902 2038 (Switch)
Email: careers@alperton.brent.sch.uk
All students in Year 10 and 12 will have the opportunity to participate in a work experience programme in July. This provides students with first-hand experience of either a career or degree subject they are considering after Year 13 and assists their long term pathway plans.
Find out about the different ways you can gain the work experience you need to impress employers and get hired, whether or not you go to university first;

Make the most of your work experience by finding out what to wear, how to impress and what you should do once it is completed;


Work experience for school students: what you need and how to get it
National Apprenticeship Week
---
National Apprenticeship Week (NAW) is an opportunity for the education and skills sector to celebrate the achievements of apprentices around the country. This year it took place in February. Please see below a guide for parents with more information.
---
What is an Apprenticeship
---
An Apprenticeship is the employment alternative to studying full-time at college. It is a real job where you gain hands-on experience in the occupation you choose. You are treated as any other employee with a contract of employment and holiday leave. You will be expected to attend college either by day release or in a block to gain in-depth subject knowledge and practice your skills. An apprenticeship is ideal for anyone who has a clear idea of the career they want.
Applying for an apprenticeship is like applying for a job; it has an employment process – you apply by CV or application form. You can find employer vacancies through the college you have applied to, individual company websites or the National Apprenticeship website.
---
The short video below offers more information about what apprenticeships are and their benefits:
---
---
Below you can find some additional websites and links that you may also find useful as a guide:
---
---
Below you can find the Unifrog Careers Plan for each individual year group
---
---
Alperton Careers Handbook
---
To help you make an informed decision about your child's career we have put together a digital handbook with information about careers opportunities and resources that you and your child can explore together. To access the e-book, click on the image below: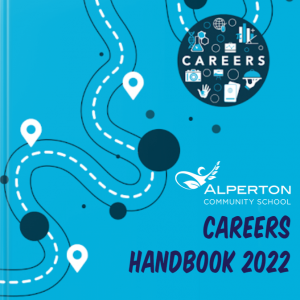 Please click on the link below to access a collection of our most recent career talks, including live videos and presentations.
Each week we are publishing a careers newsletter containing a collation of all the opportunities we have heard about from employers and universities. Please use the links included to read more information and apply to anything you are interested in.
Please click on the image below to see all the editions of our careers newsletter.
The CDI careers framework
---
In addition to meeting the Gatsby benchmarks, Alperton Community School also utilises the CDI Framework, which clarifies the skills, knowledge and attitudes that our careers curriculum seeks to develop, in order for our learners to have positive careers.
The CDI Framework outlines the learning outcomes that our careers programme covers and these learning aims are sustained and progressive throughout a student's time at ACS.
---
The six learning areas are:
---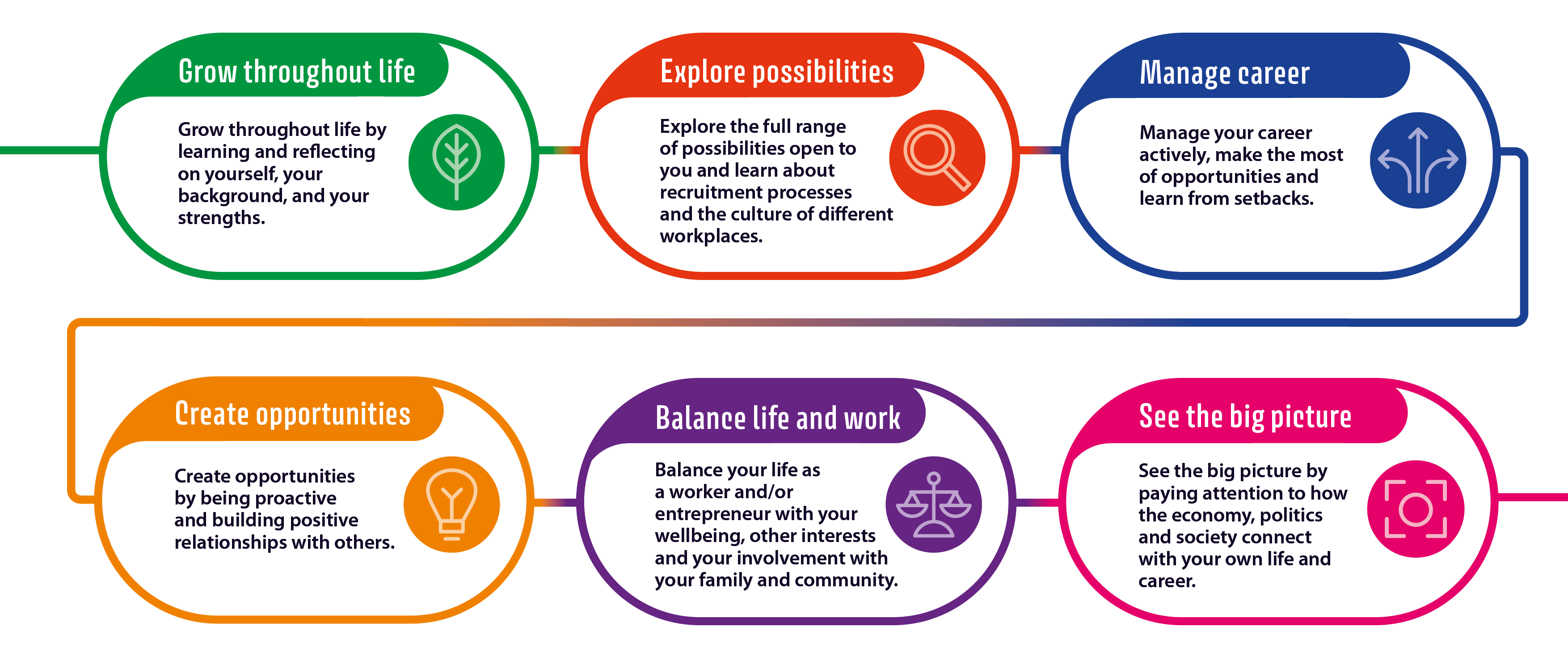 The CDI Careers Framework also contains 17 learning outcomes for careers, employability and enterprise education:
Developing yourself through careers, employability and enterprise education
Self-awareness
Self-determination
Self-improvement as a learner
Learning about careers and the world of work
Exploring careers and career development
Investigating work and working life
Understanding business and industry
Investigating jobs and labour market information (LMI)
Valuing equality, diversity and inclusion
Learning about safe working practices and environments
Developing your career management and employability skills
Making the most of careers information, advice and guidance
Preparing for employability
Showing initiative and enterprise
Developing personal financial capability
Identifying choices and opportunities
Planning and deciding
Handling applications and interviews
Managing changes and transitions
For more information on the CDI Framework, please check out the document below: