If you're a former student of Alperton Community School, we would love to hear from you!
Your experiences since leaving could help to motivate and inspire our current students to feel more confident in making decisions about their future. We'd love you to join our alumni network and stay connected with the school. You can choose how and when to help – you could act as a career role model, provide work experience, become a mentor in person or online, or help with donations, fundraising or even apply to become a governor.
It doesn't matter when you left us, whether you're in further education or employment, whether you still live nearby or have moved further away, there are still ways you can help.
---
Alumni days
---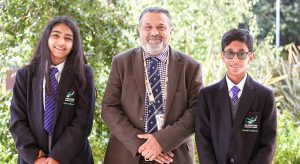 Doctor Chet Trivedy
On Wednesday, 20th October 2021, we welcomed to our school a very distinguished former pupil, Dr Chet Trivedy, who attended Alperton back in the 1980s. Chet has had the most incredible and colourful career journey. He has spent the majority of his life in medicine and is currently a senior consultant in Emergency Medicine at the Brighton and Sussex University and a senior lecturer at The Queen Mary University of London (QMUL). He is also the founder of the Tulsi foundation as well as a medical advisor for the Wildlife Conservation Trust and the doctor for the England Cricket team. Please  click here to find out more.
---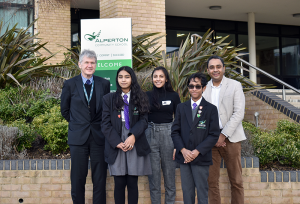 Doctor Jason Seewoddhary and Sonal Halai
On Tuesday, 1st February 2022,  Dr Jason Seewoodhary who attended Alperton in the 1990s, and Sonal Halai who attended Alperton in the 2000s visited Alperton Community School. Jason currently works as a GP in Richmond and as a hospital doctor in Hillingdon Hospital where he specialises in diabetes and endocrinology, obstetrics and gynaecology, and has completed research into STEM cells and molecular biology. Sonal went on to become a quantity surveyor. Her current projects include the refurbishment of apartments in Knightsbridge and a number of new builds in Sudbury. To find out more, please click here.
---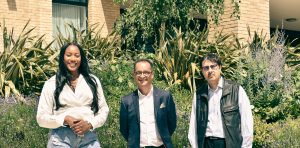 Adefemi Akinsanya, Atul Maru MBE and Riaz Ahmad
In July 2022, we were honoured to welcome back to our school three very distinguished former pupils: Adefemi Akinsanya who left Alperton in 2012 and Atul Maru and Riaz Ahmad who attended Alperton in the 1980s. Adefemi is a journalist working for Arise news, Atul is a UK Border Force Officer at Heathrow Airport and has an MBE and Riaz is the Head of Quantitative Finance at the Fitch Group and holds a Lectureship in the departments of Mathematics and Computer Science at UCL. To find out more, please click here.
---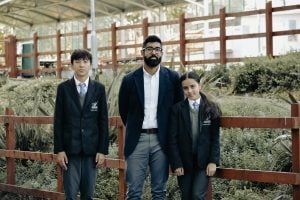 Tayyab Rahman
In November 2022 we welcomed back another former pupil, Tayyab Rahman, who left Alperton 15 years ago. Tayyab is The Salesforce Platform Manager at Great Ormond Street Hospital Children's Charity where he implements innovative IT solutions to help raise money for the Hospital. Please click here to find out more.