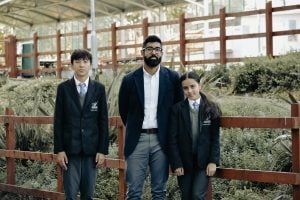 Last week, Alperton Community School welcomed back another former pupil, Tayyab Rahman, who left Alperton 15 years ago.
Tayyab is The Salesforce Platform Manager at Great Ormond Street Hospital Children's Charity where he implements innovative IT solutions to help raise money for the Hospital.
On his arrival at Ealing Road, he was met by two Year 8 students, Fatimah and Chris, along with Mr Rayleigh who gave him a full tour of the new school building. The students asked him many questions about his current role and what he could remember about attending the school.
After lunch we walked across to Stanley Avenue and Tayab met with two Year 12 students, Rehana and Noor, who gave him a full tour of the school and then he met with many of our staff members, both old and new.
He then gave a careers talk to a number of sixth formers in the library. His talk was very personal and inspirational and it was really interesting for the students to hear such passion from someone who had attended ACS.
It was yet another wonderful day welcoming back such an amazing former student who was extremely complimentary about our school. Tayyab remarked that it was lovely to return to the school that had provided him with such a wealth of experiences and successful qualifications and although it was surreal to return, he had a great time meeting such wonderful students and engaging with staff members, some of whom he remembered from when he was at ACS.