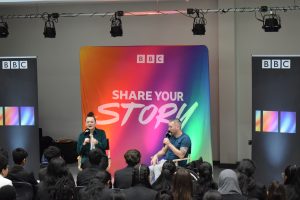 On Thursday, 29th October, we were delighted to welcome to our school the BBC and take part in their educational project 'BBC100 Share Your Story'. The programme is part of the BBC's 100th birthday celebrations and aims to inspire young people to achieve their ambitions and career goals. They are currently visiting 400 secondary schools across the UK, reaching approximately 400,000 students.
A carefully selected BBC Ambassador was chosen to share his journey with our students and inspire them through the power of storytelling.
We were extremely lucky to be visited by a high-profile BBC celebrity, Martin Dougan, who is well known for being the main reporter on Newsround. He is a very charismatic presenter and as part of the programme he introduced a colleague who shared her career journey with the students.
Her story was very personal and explained the challenges that she had overcome along the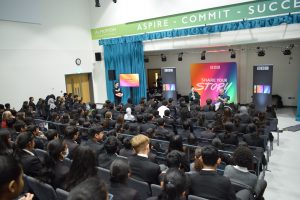 way. She spoke with passion and showed our students that no matter what you go through, you can still achieve your goals. Students were also given the opportunity to ask questions and to find out more about her journey.
Videos highlighting how the BBC have been storytelling for 100 years were shown and students were encouraged to share their stories through the BBC's Young Reporter Scheme.
The panellists then discussed careers within Storytelling such as advertising, News and Sport reporting, game design and script writing. The sessions were designed to support our school's careers provision and to help our students to connect with local employers.
Our students really enjoyed the event and it was a great opportunity for them to learn about the importance of stories. They left the event inspired that they could go and make their own positive stories in life as well as understanding the different types of careers that exist within the BBC.