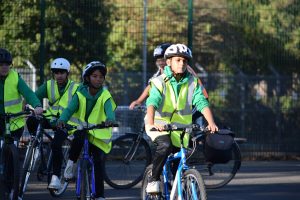 Last week, some of our KS3 students participated in the Bikeability Project, a programme designed to train students to cycle safely and to encourage sustainable travel. Please click on the link below to read some comments from our students.
I had a really nice time at the course. We learned many things such as how to use the breaks and how to read the road signs. It was a great experience and the trainers were very kind and nice and I was happy that I was selected for this course. 
When I started the course I felt a bit nervous, but there was no need to worry because it was really fun. The 1st day you practice the really important skills so you can ride safely on the road the next day! Then you do the 2nd level and if you're lucky you might even be able to do level 3. I would highly recommend it!
For the two days I took part in the Bikeability course it was extremely fun and I wish I could have done it for the whole week. The teachers were fun and helpful and overall it was a 10/10!