Last week, sixty Year 7 students had the rare opportunity to participate in two fun and engaging workshops with sculptor Brian Alabaster. The workshops were organised as part of the St George's Sculpture Art Project who is commissioning a public art sculpture for the new Grand Union Canal Development.
Following the workshops three students will be selected to be models for the sculpture, which will be prominently located just off Beresford Avenue and outside the new community centre.
St George has been working closely with public art consultant Leyla Fakhr from Art Square Projects, to come up with a brief for the sculpture. The brief was for a thought provoking and visually stimulating piece of art that relates to and celebrates the area and people of Alperton and they were particularly inspired by Alperton Community School teacher, Andria Zafirakou winning the Global Teacher Prize in 2018.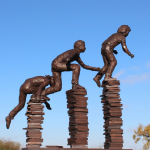 Brian, a Suffolk-based sculptor and a member of the Royal Society of British Sculptors, has produced a maquette (a mini sculpture) of his design idea for three school-age children climbing on three piles of books. Brian has chosen to make reference to education and achievement by depicting the children struggling to climb three seemingly unsteady, uneven piles of books. This difficult climb, gaining both height and a different viewpoint alludes to the progression and achievements made by pupils and achieved with the help and guidance of their school and excellent teachers.
Brian will be modelling from life and the modelling sessions are to be completed during the summer holidays. Please see below a selection of photographs taken during the workshops:
---