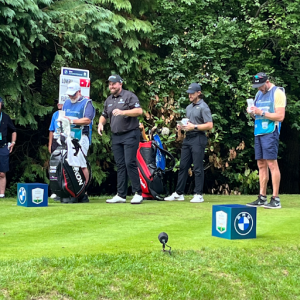 On Saturday, 10th September, a number of students were lucky enough to be invited to attend the BMW PGA Golf Championship which took place at Wentworth. None of us had ever been to a Golf tournament before and everyone at the venue were really friendly. 
There were many different activities which you could take part in such as Golf and Rugby and a game where you had to kick the football into various different holes in the wall to win a prize. 
We then saw a whole range of performance cars and brand new BMWs. You were allowed to sit in them and play around with the infotainment features which were amazing. 
Afterwards we went to watch the Golf and it was fascinating to see so many famous golfers in real life competing for the prestigious tournament. We also went on a tour of the media centre and the pressroom where we learnt that there are many different career paths within sport. For example, we learnt that you can be a tour guide, control the cameras and even control what is going to be broadcast on live television. We then learnt that the people who control everything for the media and TV have to work from huge trucks which are highly sophisticated and furnished with the very best technical equipment. We were very lucky to have the opportunity to look inside one of them and it was amazing to see all the screens with different camera angles of the golf field. We then visited the pressroom where the golf players are interviewed after each round.
We would like to thank Mr Rayleigh for providing us with this memorable experience.