On Friday, 9th June 2023, 15 Year 8 students attended a STEM trip at Brunel University to take part in an event called 'Dead on Time'.
The students were divided into small teams mixed with other local secondary school pupils and were assigned challenging crime scenarios to investigate. Guided by knowledgeable professionals, they unravelled mysteries by examining crime scenes, collecting and analysing evidence and conducting experiments. The practical nature of the activities brought their classroom learning to life, allowing them to witness the direct application of scientific principles in solving crimes.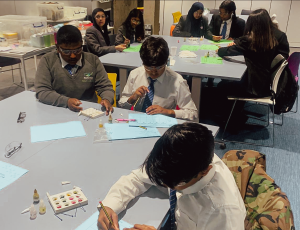 The event provided a hands-on experience in several areas of forensic science, including fingerprint analysis, DNA profiling and blood spatter analysis. The students were amazed by the sophisticated equipment available at the university's laboratories and were given the opportunity to utilise these tools themselves. The students then had to calculate who the culprit was in order to succeed.
The trip created a sense of excitement and curiosity among the students, motivating them to further explore STEM subjects. Many expressed their desire to pursue future studies and careers related to forensic science, engineering and other scientific fields.
'It was an incredible experience for everyone who attended and everyone had a lot of fun. We were all left with positive reviews and opinions of the event as we truly had a wonderful time. It was overall a fabulous event that we all enjoyed.' Swati, Year 8