Thanks to the charity Artists in Residents and The Lindon Gallery, on Wednesday 17 November staff and students of Alperton Community School had the rare opportunity to experience first hand the artwork 'Sydney' of the celebrated artist Sam Gilliam.
Sam Gilliam (born November 30, 1933) is an African American multi-media artist, associated with colour field painting and the lyrical abstractionist movement. The artwork 'Sydney' was produced by Gilliam in 1967 and is valued over $1m.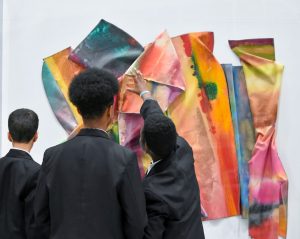 Throughout the day, staff and students took part in short workshop talks led by the gallery's curator to help the students learn more about Gillian's work and to give them the opportunity to ask questions.
Artists in Residents and Lindon & Co are collaborating on Onework, a creative partnership designed to bring museum-quality works of art to schools in areas of high deprivation across London, so that  students have the opportunity to experience great works of art at close quarters.
Please click here for a leaflet with more information about OneWork and Gilliam.