A big thank you to all staff and students who gave items towards the SUFRA charity collection. SUFRA was very pleased we were able to donate over 30 bags of food! They sent us this email: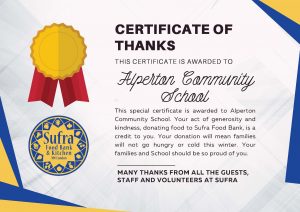 On behalf of the team at Sufra NW London, I would like to thank you for your kind and generous donation to support our guests; including families living in extreme poverty, refugees and asylum seekers, those experiencing homelessness and social isolation.
With reduced welfare support and rising levels of poverty across the UK, charities like us have had to meet the increased need within the community. Demand on the need for our food parcels increased by a shocking 332%, with over 5,000 individuals supported last year alone.  
It is with your support that we are able to help the many individuals and families who turn to us for help with the essential food, advice and support needed to survive. By working together and harnessing your goodwill we build a stronger community where no one suffers alone in silence.   
If you would like any further information about our work, please do not hesitate to contact us on 020 3441 1335 or get in touch with admin@sufra-nwlondon.org.uk and a member of staff will get back to you as soon as possible.  
Thank you once again for your kind support.
Check out our article: Covid-19: A Year in the Life of a Food BankSufra NW London