As part of our commitment to providing students with opportunities to raise aspirations, develop employability skills and make informed choices about their futures, we organised a Careers Fair for our KS3 students that took place on Wednesday, 27th April at our Ealing Road school.
There were almost 20 local organisations attending the event from a wide range of professions including: The Army, The Police, bankers, The National Health Service, architects, engineers, personal trainers and artists. Over the course of the day, almost 1000 students had the opportunity to speak to different companies about the skills, qualifications and experiences that they would need to be successful in these particular careers. 
Students were provided with a booklet that had various diff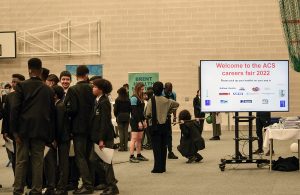 erent competitions to complete during their time at the fair such as bingo, a scavenger hunt and decoding a secret message. These could only be completed by interacting with the professionals. It was really nice to see the students conduct themselves in such a mature and professional manner when speaking with the organisations and how engaged they were with completing the competitions. 
The main purpose of the careers fair was to encourage and inspire students at KS3 and to help them understand why it is so important to work hard in school and that it is never too early to start thinking about future careers.
I would like to extend a thank you to everyone who supported the careers fair and to the organisations that gave up their valuable time to ensure that the event was such a great success. The visitors were really impressed by the event, the school and of course our students. Some of the comments they gave were: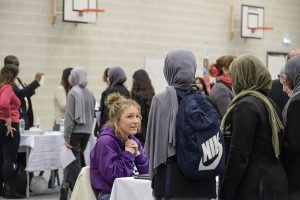 'The students were all respectful and listened to each other's questions and hopefully they were able to take something away from our answers.'
'We were really impressed with the school facilities, the food and of course the students who were a credit to your school. We look forward to a return visit.'
'It was great to be part of the fair and to hear the students asking such thoughtful questions.'
'A very well organised event. The bingo questions and secret messages in the booklet were a really good idea.'
The winners of the careers fair booklet competition were: Yashni (Year 7), Parthavi (Year 8), Tushara (Year 9). They will each receive a £10 Amazon voucher.