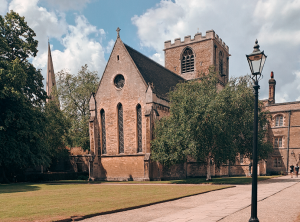 On Thursday, 22nd June, 30 Year 7 Alperton students visited Cambridge University. This trip was a great opportunity for the students to immerse themselves in academic excellence, explore the historic campus and gain an insight into university life. Walking through the historic courtyards and majestic halls, the students were stunned at the architecture and rich heritage. The guides shared fascinating stories regarding the university's significant contributions to education and society.
There was an opportunity for the students to engage with some of the graduates, which allowed them to understand student life, the admissions process and the diverse extracurricular activities available on campus. The friendly and approachable university students encouraged our Year 7s to dream big and pursue their passions. The highlight was walking across Cambridge to the museum where there were displayed different artefacts and exhibits, which gave a fascinating glimpse into history, science and culture.
This educational trip will live long in the memories of our students, with the hope of igniting a lifelong love for learning and serving as a powerful motivator to strive for academic excellence.
'When I heard the news that I was going to Cambridge I was super excited, as I had never had an experience like this. It was a long journey but in the company of the teachers and my friends, it went really quickly. When I first saw Cambridge University, I was amazed at how big it was. We were then given a tour by an incredible student who told us about herself and shared fun facts about the University. However, my favourite place was the Museum. Although we did have to walk, the roads were super clean and the shops looked amazing. In the museum, I saw old items that I never knew existed. Overall, I loved this trip and I am now looking forward to going to University to get a great degree. Palak, Year 7