On Saturday 2nd April 2022, 41 students took part in their Silver and Bronze practice expedition in the Ashridge area. The students met staff at the Ivinghoe Carpark and from there they set off in groups completing an 8 hour walk where they only had a map and compass to guide them. All groups successfully made it to camp through the sunshine, snow and wind that day… yes, in one day.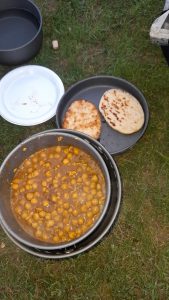 When they arrived at camp they set up their tents and cooked some amazing food on their personal stoves – one group made chickpea curry! That night the temperatures dropped, it was a hard night, even for me! Yet this did not dampen the spirits of the students; they were up with smiles on their faces. One group in particular woke up at 5.30am to do some running in the field to warm up. From there they packed up and started the day 2 – an 8 hours walk. The students once again navigated with confidence and arrived at camp – tired and aching, but proud. The field was beautiful and some of the students were able to see the many deer as they ran through the back of the field.
The second night was a much better temperature, which was appreciated by staff and students, but we awoke to the rain and wind. I made a plan to change the day as I was so proud of the students and felt confident with their skill, so I asked the students if they wanted to cancel the walk in the rain and be collected from the campsite or do 2/3 of the walk to The Bridgewater Monument. It was a unanimous decision – all students wanted to walk the final day. What a sense of achievement, pride and determination! They put on their waterproofs, cooked breakfast in the rain, worked as team members and off they went with laughter and smiles to complete a 5 hour walk in the rain.
It was an honour to lead such confident, independent and determined young adults. Once again our students made us proud. With only a few blisters and a huge sense of achievement all students did an amazing job on the practice expedition.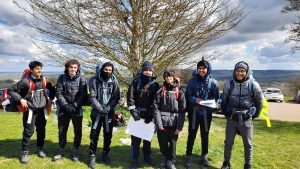 A huge and special thank you to staff Mathilda, Maureen, Juliet, Antony and Kieran who gave up more than just their time to support the students over the weekend despite the weather challenges. It was a pleasure to have you on the team, you made this happen.
Another thank you to the 6th form helpers AKA Gold Ambassadors, Adelina, Corey, Tala and Ali who came all the way to share their expertise with the students, supporting them through the walk, safe cooking and tent assembly. Without you the expedition would not have been possible. (Mrs Ernestine)