Alperton Community School would like to say a huge thank you to Sgt Laura Barrigan and WO2 Katherine Robinson for delivering two engaging and inspiring assemblies to our Year 8 and Year 9 students on Monday. They encouraged students to believe that the possibilities ahead of them are endless, regardless of gender or class. In the words of Sgt Barrigan "Your only limitation is the limitation of your imagination".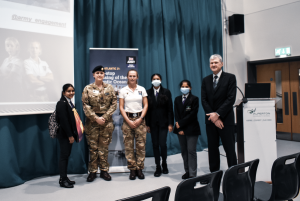 The presentation was thought-provoking from start to finish. The students bubbled with surprise and inspiration as they watched the videos and pictures included in the presentation and listened to the personal experiences of Sgt in just 40 days! The presentation provoked our students to think about what it would take for them to achieve such an amazing goal. The students learned about the physical fitness it would take to begin thinking about rowing for 40 days. They spoke about mental fitness, mental resilience and knowing and responding to their own personal mental states. Sgt Barrigan talked about the training she undertook to improve her ability to communicate with her team in times of sleep deprivation, physical exhaustion and even homesickness. She told the students about her personal experience of coping with stress, with being confined to such a small space and how she managed to cope with just four people for 6 weeks.
The presentation exposed the students to new literacy language and mathematical workings specific to rowing. They learned about the swells in the ocean, nautical miles and seamanship. Sgt Barrigan showed them videos of marine life and spoke about the training she took part in to improve her knowledge of marine biology. She even trained in radio communications and engineerin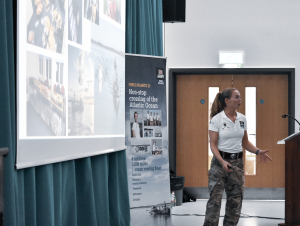 g to make this expedition successful. She explained that the team needed to have the skills to fix any part of the boat including all mechanical equipment such as the Water Maker (which did break and they did manage to fix).
Sgt Barrigan taught our students about nutrition and hydration, and how to calculate the required calories according to physical output, planned activity and she even compared the food to the food consumed by astronauts. Sgt Barrigan explained how her team needed to depend on each other, for example if there were any injuries. All 4 team members received first aid training in order to prepare for possible scenarios. Sgt Barrigan told us how the team navigated using maps, compasses, satellites and stars.
The students learned about other teams involved that helped make this possible. There were multiple teams working behind the scenes such as the weather team who helped Team Force Atlantic make the right decisions to get the best productivity and speed, the media team who helped publicise the expedition and the team who approached sponsors to raise the whopping £100,000 needed to make this possible.
This presentation was just incredible and got our students thinking about their own careers, personal exploration, aspiration and making their own choices in the future. Our students learned about the requirements for personal and team organisation and reflected on the challenges of the time, being in lockdown. The Force Atlantic team has shown us what it takes to lead and support, to be adaptable and to be ready for the possibilities that lay ahead.
Our students are now wondering if a World Record holder is sitting amongst them! Thank you for inspiring our young people.