---
We believe in offering students a wide variety of extra-curricular activities. The skills and enthusiasm of our staff has enabled us to increase the range and coverage of activities offered.
---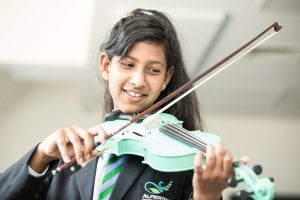 We offer a range of 'Lunchtime clubs' which include science, chess and computing and 'After-school' clubs which include Art, Drama, Dance, Music,  as well as homework club and use of the Library on both sites well beyond the end of the school day.
Many trips are held during the school year to enhance students' knowledge and understanding. We run residential trips to France and Spain which allow students to practise their language skills as well as learn about life in different countries. Field trips closely linked to curriculum studies are organised for Science and Geography, as well as visits to the theatre, museums and art galleries.
We believe that team building is essential to creating a harmonious and collegiate atmosphere in school.  On our Extended Learning Days students take part in a range of inspirational and adventurous learning activities to develop team-working and problem solving skills, both in and out of the classroom.
At the beginning of Year 7 the whole of the year groups visits the Longridge Activity Centre in Marlow.  The focus on getting to know each and team building as students participate in a number of activities such as dragon boat racing, rock climbing and problem solving.