---
Brent residents who want to know more about the COVID-19 vaccine are being invited to a free webinar to get answers to their questions. Taking place on Monday, January 25, between 6pm and 7.30pm, the free session will enable participants to separate the facts from the fiction and gain a better understanding when it comes to being vaccinated against COVID-19.
---
To sign up to attend the webinar go to: https://vaccinewebinar.eventbrite.co.uk  
For more information about the rollout of the NHS COVID-19 vaccination programme in the borough, visit www.brent.gov.uk/your-community/coronavirus/vaccine/  
---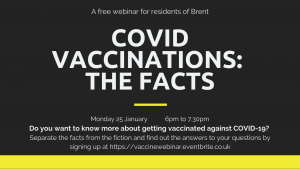 The session will include a panel of community representatives and a local Doctor and will be hosted by Cllr Promise Knight, Brent's Cabinet Member for Community Safety and Engagement.
"Thousands of people in Brent, and more than 3.5million across the country, have already chosen to take up the vaccination against COVID 19, but we know some people are wary of it," said Cllr Knight. "Others have adopted a wait and see approach, and obviously this is about personal choice. But be under no illusions that the number of COVID infections, hospitalisations and deaths remains worryingly high and residents need all the facts so they can make their own informed choice when the vaccine is offered to them."
Dr John Licorish, Deputy Director of Public Health Brent, will give a presentation about the COVID 19 vaccine at the webinar that will also include a panel of community representatives.
These will include Alton P Bell, Senior Pastor at Wembley Family Church, who grew up and attended schools in Brent and is a qualified Industrial Chemist, IT specialist, theologian, church leader, writer, mentor and community activist. 
Dr Musharraf Hussain al-Azhari, will also be on the panel. Chief Executive of the Karimia institute, he has a Ph.D. in biomedical sciences. After twelve years as a scientist he decided to dedicate himself to developing Muslim communities in the UK, studying, teaching and writing twenty books and more than three hundred essays.
Atara Fridler will also be a panel member. She has been the Director at Crisis Brent Skylight since April 2016, overseeing the delivery of services to over 500 people who are either homeless or faced with homelessness.