On Wednesday, 19th April, our school hosted an excellent Careers Fair for the KS3 students in the sports hall at Ealing Road. There were almost 20 companies attending including McDonalds, John Lewis, Balfour Beatty, Barclays and the Army and there were a wide range of different professions represented such as: Health, finance, engineering, artists, acting, construction and retail.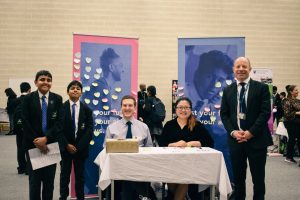 Over the course of the day, almost 1000 students had the opportunity to speak to different companies about the skills, qualifications and experiences that they would need to be successful in these particular careers.
Students were provided with a booklet which included various different competitions and tasks to complete during their time at the fair such as bingo and decoding a secret message. These could only be completed by interacting with the professionals.
It was really inspiring to see the students conduct themselves in such a mature and professional manner when speaking with the organisations and how engaged they were with completing the booklets.
The main purpose of the careers fair was to encourage students at KS3 to aspire and motivate them to understand why it is so important to work hard in school and the fact that it is never too early to start thinking about future careers.
The visitors were really impressed by the event, the school and of course our amazing students. Please see below the comments from the volunteers: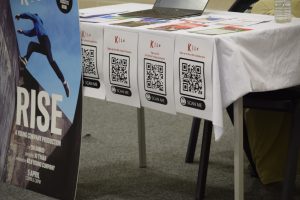 'Thank you for the opportunity to meet with your amazing students who were all so polite and asked some really thought-provoking questions, some with real insight into their next steps. It was a thoroughly well put together event and we look forward to working with the school in the future.'
'Fab event, lovely students. I think they know they're lucky to be at Alperton.'
'Really enjoyed meeting the other organisations and speaking to such inspirational young people.'
'It was evident that students are highly motivated to explore the potential career paths available to them at the careers fair.'
The winners of the careers fair booklet competition were:
Year 7 – Vedika
Year 8 – Zak
Year 9 – Hamza
They will each receive a £10 Amazon voucher.