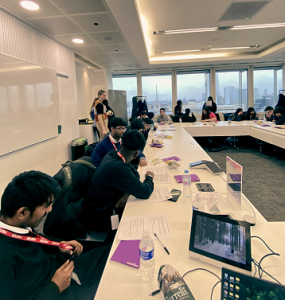 On Wednesday 22 February, twenty-three Year 12 students and Ms Beckford travelled to Central London to undertake a business workshop at the headquarters of Accenture, a global IT services and consulting business. Students arrived at their offices at 1pm and met the Strategy Manager and his team.
The students learnt about the different career opportunities within a corporate setting. They also had the opportunity of tackling a real-life business case and learned about the latest trends in technology and working in a team to create innovative solutions.
Afterwards a lunch break the students also had a Q&A session with recent graduates and apprenticeships to find out more about what it takes to join and succeed in a corporate business such as Accenture.
The students had a great time during the event and were incredibly appreciative that they were all given such an amazing opportunity to visit Accenture in Central London in order to learn more about the consulting industry. They really valued the fact that they managed to hear from actual industry professionals. They particularly enjoyed hearing from the recent graduates because they represent what our students would like to achieve when they enter the world of work.